UK (University of Hull) University of Hull students visit to Castle Howard features in new TV series
A visit to one of the UK's most celebrated stately homes by international students from the University of Hull is set to feature in a new TV series that starts tomorrow.
Documenting a year in the life of Castle Howard, the Channel 4 series Castle Howard: Through the Seasons, begins with the house opening up for the season and hopes for the months ahead. The students will make an appearance – as part of a brief segment in the first episode this weekend.
The visit by the students, which was part of a trip to introduce them to some of Yorkshire's most popular tourist spots, took place this summer and was a highlight for many during their time in Hull.
During their visit to Castle Howard they enjoyed a cream tea, were welcomed by the Howard family and presented the gift of a Nigerian Talking Drum (Gangan) that is now part of the family's private collection.
Accounting and Finance Masters student Jamiu Olalekan Kareem, who presented the drum, said: "It was an unforgettable moment presenting the drum and sharing my culture. This visit meant a lot to me as I'm a person who loves to travel, explore new environments, and learn about people's culture and way of life."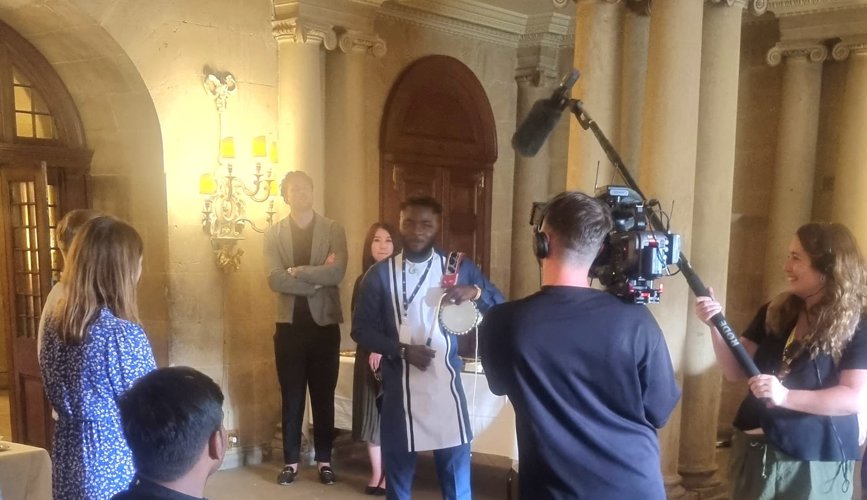 Oyebola Toyese, who studied Advertising and Marketing, said: "Castle Howard was magnificent, and I think the family's perspective on life was interesting. It was wonderful to connect various locations to the movie series Bridgerton too.
"All the places we visited! I also learned about Dracula and saw St Mary's Churchyard at Whitby Abbey. I took a stroll down the 201 steps, where I was able to appreciate Whitby Abbey's beauty."
The trip, which also included Helmsley and Robin Hood's Bay, was a follow-up to a cultural gala that was organised by and for the Hull University Business School students earlier in the year. At the gala, it became apparent that many students who were studying in Hull were keen to explore Yorkshire and find out more about the history of the region.
Thanks to student accommodation provider Kexgill – who put the plan into action – the students were able to enjoy a memorable day out. It was a pleasure for everyone involved for the University and Kexgill to work together to provide a chance for the students to experience Yorkshire life, including highlights such as fish and chips in Whitby and a cream tea at Castle Howard.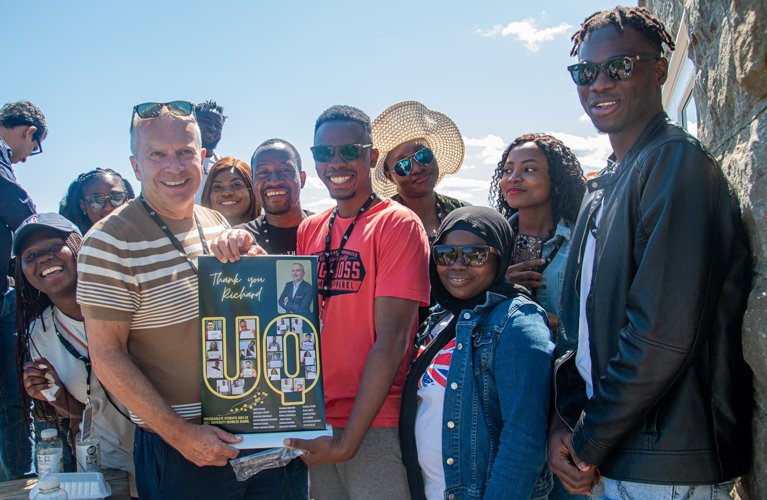 The University of Hull is home to students and staff from more than 100 countries and offers a friendly, inclusive environment to study.
Seyi Akinremi, also an Advertising and Marketing Masters student, said: "I think it's very important for international students to visit cities or towns surrounding the University. It gives them an understanding of the history here and also an opportunity to meet people from different cultures especially here in Yorkshire."
Richard Stott, Managing Director for the Kexgill Group (which owns and operate the University Quarter), said: "Following on from the successful Hull University Business School Cultural Ball, I wanted to show the student organising team the very best of Yorkshire. There are so many beautiful places in our locality. We travelled to Robin Hood's Bay, Whitby, Helmsley, and then the highlight, a private tour of Castle Howard. It was a memorable day."
Dr Fannie Yeung, Lecturer in Marketing and Director of Student Experience at Hull University Business School, said: "I was so thrilled and proud to accompany our international master students who were being treated as special guests during our visit to Castle Howard.
"They were interviewed, given a grand tour of the house, and treated to sumptuous high tea. As a token of their appreciation, they presented our host with a Nigerian talking drum which I understand is now part of the house's collection."
Jamiu said: "A very big thanks to the University Quarter for this memorable trip. And also a big shoutout to the team and the University of Hull for bringing us together from different part of the world. Let do this again!"