Canada (University of Victoria) UVic brings climate expertise to NASA satellite mission
A University of Victoria researcher is part of a national team that will develop instruments to be deployed into space as part of a multi-nation NASA satellite mission: the Atmosphere Observing System (AOS). The resulting data will be vital to improve forecasts, inform climate models, and help humankind respond to climate change.
The High-altitude, Aerosol, Water vapour and Clouds (HAWC) mission, which will keep an eye on the upper atmosphere over the Arctic and Antarctic, was announced Tuesday in Ottawa by François-Philippe Champagne, federal minister of Innovation, Science and Industry.
Colin Goldblatt, associate professor in the School of Earth and Ocean Sciences, is a member of the Canadian Space Agency's HAWC mission. HAWC will measure water vapour and clouds at high altitudes and high latitudes—specifically over the polar regions. Goldblatt brings his climate modelling and remote sensing data expertise to the HAWC mission.
"As a result of climate change, Canada is warming twice as fast as the rest of the planet. The HAWC mission is going to bring essential information to allow Canadians and the international community to adapt to climate change. We can only manage what we measure."

— Goldblatt
HAWC will respond to the need for efficient and accurate data that will help make evidence-informed decisions to combat climate change. Improving weather prediction data will help Canada and regions around the world to prepare for extreme events such as winter storms, wildfire smoke plumes, heavy precipitation and volcanic eruptions. Please learn more here.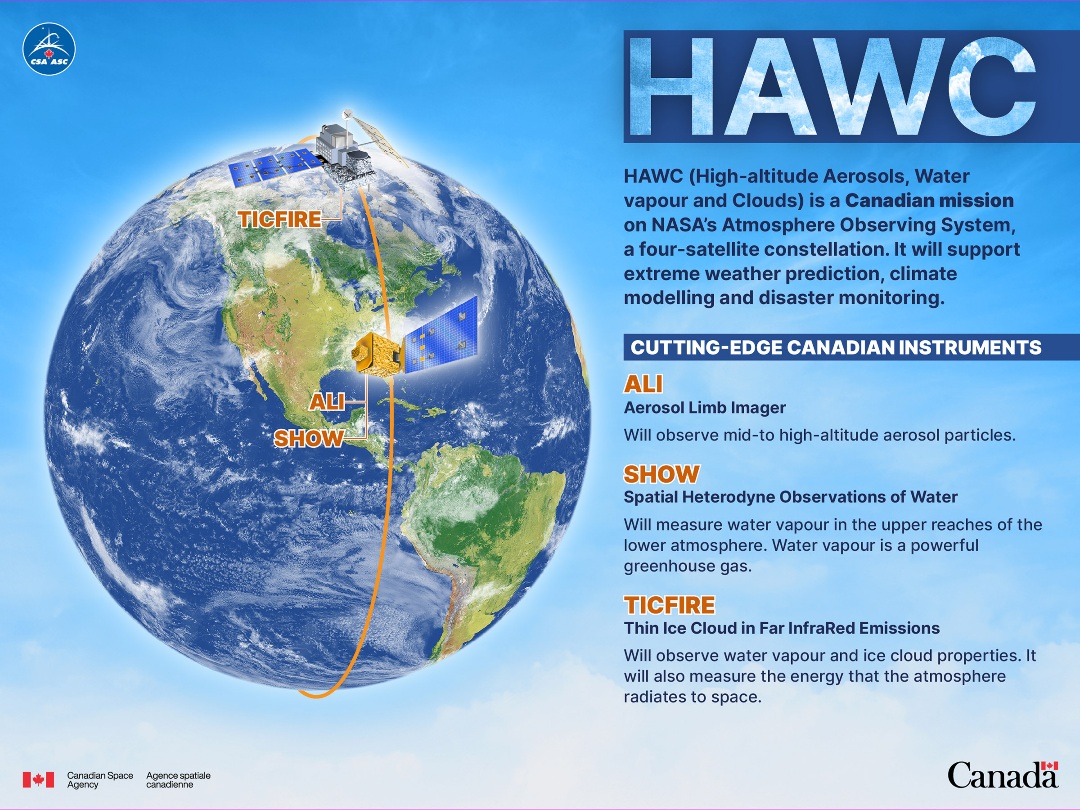 As the HAWC mission is developed, students in Goldblatt's lab will get hands-on training in how to use and interpret satellite observations and remote sensing data – before the data is even delivered. This will produce more highly qualified scientists who can help understand our changing weather, air quality and climate.
Participating in Canada's contribution to NASA's flagship AOS expands UVic's commitment to the United Nations Sustainable Development Goals, or UN SDGs. In 2022, UVic ranked second among the world's universities for climate action, or SDG 13. Learn more about UVic's 2022 Times Higher Education Impact Rankings at uvic.ca/impact.
Other universities involved in the project are the University of Saskatchewan, Université du Québec à Montréal, University of Toronto, McGill University, University of New Brunswick, University of Sherbrooke, University of Waterloo, Wilfrid Laurier University, St. Francis Xavier University, Saint Mary's University, Dalhousie University, and the University of Western Ontario.
Read more about the project here.