New Zealand (University of Auckland) Jodi Gardner: family, fate and a bit of fear
From the hallowed halls of Oxford and Cambridge, Dr Jodi Gardner is embarking on an exhilarating and, in the short term, likely exhausting move with her family of seven to take up a position with Auckland Law School.
When the opportunity to apply for the Faculty of Law's Brian Coote Chair arose, Australian-born legal academic Dr Jodi Gardner says it felt a bit like fate.
"My husband was in Australia at the time with our three older children, seeing relatives and friends for the first time in five years. He had just spoken to me about how much our daughters loved seeing their extended family and how it was probably time to consider moving closer to home."
The next day, Jodi, whose research and teaching interests span contract, tort and commercial law, awoke to an email from the University of Auckland asking if she would be interested in applying for the Brian Coote Chair.
"I did the interview when I was 34 weeks pregnant with my fifth child and was delighted when I heard I had been appointed," says Jodi from her home near Cambridge University in the UK.
"I'm excited about the opportunities with Auckland Law, including the ability to consider injecting further clinical legal education, practical legal training and pro bono work into the curriculum.
"I'm also slightly terrified about relocating a family of seven from the UK to Auckland, but as an indication of how wonderful the Auckland community is, I have already received numerous emails offering advice and assistance with the move."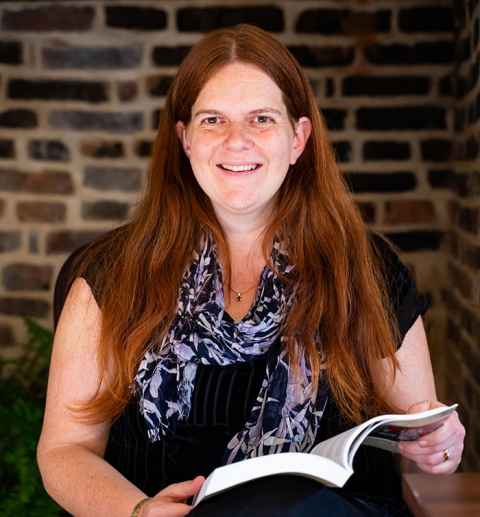 Meanwhile, despite now being 37 weeks pregnant, Jodi is busy finishing up several edited collections including Landmark Cases in Consumer Law, a two-book collection considering the relationship between politics, policy and private law and also an interdisciplinary book on the impact of Covid-19 on debt.
"I've also just started an empirical research project on class action lawsuits and litigation funding and am looking forward to working with [senior lecturer] Nikki Chamberlain at Auckland Law on this really important legal issue."
Dean of Law, Professor Pene Mathew, is delighted Jodi is joining the school.
"Jodi has written extensively in the area of private law, publishing in journals and with publishing houses of the highest quality, including the Modern Law Review, the Law Quarterly Review and Cambridge Law Journal," says Pene.
"As well as being an excellent doctrinal scholar, she conducts socio-legal, interdisciplinary and collaborative research, given her aim to understand the impact of the law in practice. Her work has had impact beyond the academy, and she is frequently asked to advise government bodies and policy institutions."
Jodi has held visiting positions at the Woodrow Wilson School of International and Public Policy (Princeton University), Columbia Law School, the Centre on Household Assets and Savings Management (University of Birmingham), and the Max Planck Institute for Comparative and International Private Law. She is also currently a senior adjunct research fellow at the Centre for Banking and Finance Law at the National University of Singapore.
"Jodi will bring her considerable leadership experience in research and teaching, including clinical legal education, to the Law School," says Pene.
"She is also a gifted and versatile teacher who shows great care and compassion for her students."