Ghana (University for Development Studies) Prof. S. Tabiri, Dean, UDS School of Medicine Leads AMPATH Ghana Team to The USA
The Dean of the UDS School of Medicine, Prof. Stephen Tabiri, in October 2022, led a team from AMPATH Ghana to the United States of America for the Ampath Global Gathering.
As part of the activities lined up, Ampath Ghana hosted an evening event, supported by the New York University, Africa House. The event saw in attendance, partners from the University for Development Studies (UDS) and the Tamale Teaching Hospital (TTH). Also present were more than 40 staff from the New York University Grossman School of Medicine (GSOM) and NYU faculty, partners, and donors.
The event featured a panel discussion which focused on advancing health equity in Ghana and around the world. The topic chosen for the discussion was "A Shared Mission to Ensure Healthcare for All". It was moderated by Dr. Rajesh Vedanthan, Executive Director of Ampath Ghana and Director, Section for Global Health, Institute for Excellence in Health Equity.
Prof. Stephen Tabiri, who was one of the panelists, enumerated some of the successes chalked up by Ampath Ghana in the period under review. He appealed for more donations to enable the UDS School of Medicine to train more doctors to serve in rural areas in Ghana.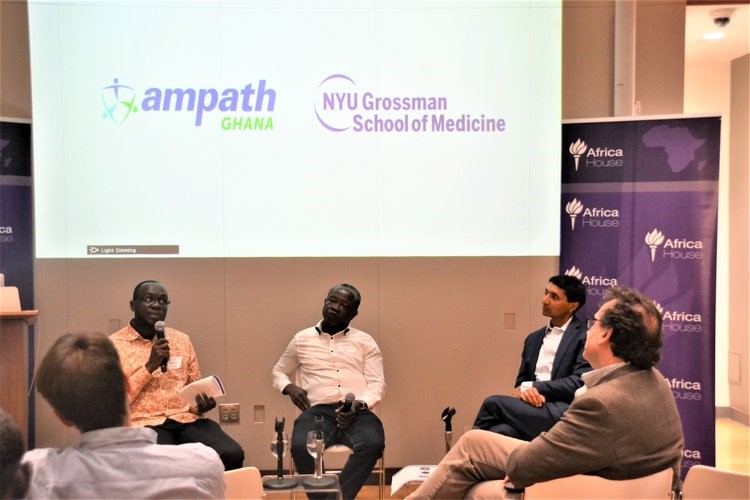 The UDS School of Medicine trains more than 1,000 medical learners with a focus on care for the poor. UDS is committed to the health of Ghana's citizens and education of the next generation of healthcare providers. UDS achieves its mission through its local and international partners, such as the Ministry of Health and the Ministry of Education.
Story by:
Ismail Yussif, Salma Abdul-Rashid & Hamdan Amadu Wumpeka (University Relations)