Universiteit Antwerpen (Belgium) MAXRPD Scanning Vermeer
AXIS involved in major discoveries on Vermeer's painting The Milkmaid
​​A major Vermeer exhibition will launch in 2023 at the Rijksmuseum showing at least 27 paintings from the small oeuvre of about 35 works by Johannes Vermeer, coming from museums around the world. Before the start of the exhibition, several of Vermeer's iconic works, such as The Milkmaid, are being investigated by a team of conservators, restorers and scientists from the Rijksmuseum and the Mauritshuis  (press release Rijksmuseum). Next to state-of-the-art scientific techniques, such as Macroscopic X-ray fluorescence mapping (MA-XRF) and Reflectance Imaging Spectroscopy (RIS), also Macroscopic X-ray diffraction (MA-XRPD) is performed using a unique instrument developed within the AXIS research group (University of Antwerp).
With their MA-XRPD scanner the AXIS group  examined a series of Vermeer paintings within the Rijksmuseum, including The Milkmaid and The Love Letter, not only to look at the original pigments and paintings techniques used by Vermeer but also to search for clues in order to understand the discoloration phenomena that take place in these works of art since their completion 350 years ago. From the Mauritshuis collection, two paintings by Vermeer were previously examined with MA-XRPD: Girl with a Pearl Earring and Diana and her Nymphs.
Vermeer's The Milkmaid being examined with the AXIS MA-XRPD scanner (University of Antwerp). Credit: Rijksmuseum, Amsterdam
Vermeer's The Love Letter being examined with the AXIS MA-XRPD scanner (University of Antwerp). Credit: F. Vanmeert
A movie of the Rijksmuseum on the second part of the research project can be found here and of the third part here.
Upon the request of the world famous Kunsthistorisches Museum in Vienna (Austria), also MA-XRPD scans of Vermeer's "The Art of Painting" are planned.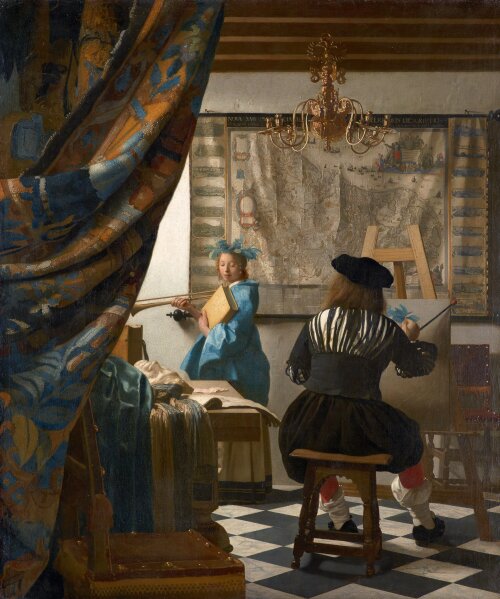 Additional media attention:
Vermeer paste Melkmeisje aan: schilderij toonde eerst vuurmand en rek met kannen – NOS Nieuws, 08-09-2022
​"Het melkmeisje" geeft na 360 jaar nog geheimenprijs: Vermeer schilderde eerst veel drukker decor– VRT 08-09-2022
​Vermeer – Een onderzoeksproject, deel III (rijksmuseum.nl)​
Previous research​​
In 2018 a series of state-of-the-art scientific techniques were used for the investigation of another famous work by Vermeer in the collection of the Mauritshuis: Girl with a Pearl Earring.
Within 'The Girl in the Spotlight', a joint project of several institutions within the framework of the Netherlands Institute for Conservation, Art and Science (NICAS), AXIS used their MA-XRPD scanner to reveal Vermeer's use of different types of the pigment lead white when creating bright highlights or dark shadow tones, which was published within Science Advances.
In a special issue of Heritage Science completely devoted to the research on Girl with a Pearl Earring, the results of the technical examination are revealed in (up to now) 10 scientific papers. With the AXIS MA-XRPD scanner different degradation products such a sulfates and oxalates of Ca, Cu, Pb … could be identified on the surface of the dark background (published in Heritage Science).