UK (University of Worcester) MP Hopeful of Funded Places for University's New Medical School
West Worcestershire MP, Harriett Baldwin, says she is confident the University of Worcester will benefit from the Government's plans to increase medical school places.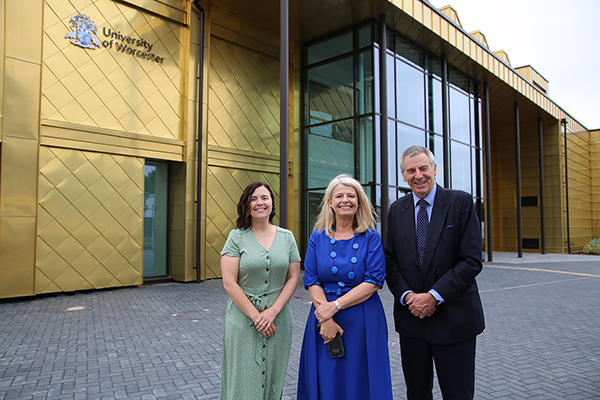 During a visit to see the University's recently opened Elizabeth Garrett Anderson building, for health and medical education, Ms Baldwin said she hoped to see funded places implemented locally quickly.
"I have been making the case to ministers for some time that there is this great new facility and that there is the capacity to take more UK students provided funds are there," Ms Baldwin said.
The Government announced its new NHS Workforce Plan on Friday, June 30, a 15-year strategy to boost its heath workforce nationally. Targets include increasing the number of medical school places from the current 7,500 a year to 10,000 a year by 2028 and doubling them to 15,000 a year by 2031.
However, the plan does not provide for new medical school places until September 2025. The University, working with local NHS leaders, Ms Baldwin and her parliamentary colleague, Mr Robin Walker MP, are trying to bring this date forward, for Worcester at least.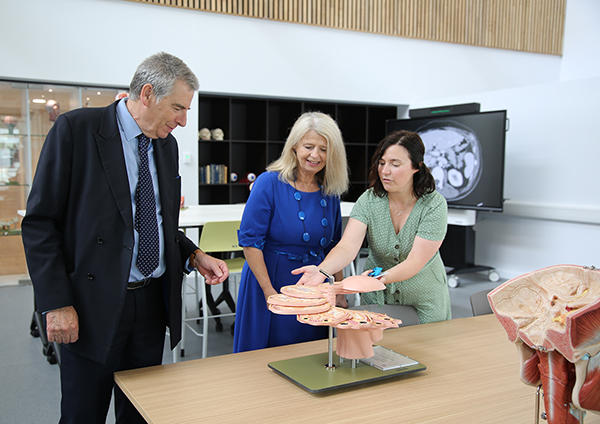 During her visit, Ms Baldwin saw the new state-of-the-art anatomy suite, which has been purpose designed for the education of medical students and heard how, if Government funded places were allocated to the University, there was capacity and the demand to train many more students in the City.
The Three Counties Medical School will be training up to 48 students from September. The University has received support from the Kildare Trust and local NHS trusts to fund 20 UK students through their four years of study. They will be joined by 28 self-funded international students.
Ms Baldwin said: "I have campaigned for us to have a medical school here for years. I think Worcestershire is the most wonderful place to live and we're blessed with great public services, great schools, great local hospitals. But it's going to really supplement that, to have a pipeline of locally trained doctors, many of whom will choose to stay in our beautiful county.
"I think we have always been able to recruit because it's such a nice part of the world, but to have people that have also had education here is inevitably going to make it more straightforward for our local trusts and GPs to recruit medics."
"No let up in demand"
Ms Baldwin also praised the facilities, saying: "I think it's absolutely wonderful. I can see this is really cutting edge in terms of the facilities it will offer medical students and how technology and some of these very detailed anatomical models are going to make it a better learning environment for medical students."
She added that the University already had a "fantastic reputation" for training paramedics and nurses.
"I think that we have a growing population, there's going to be no let-up in demand for medics and so it totally makes sense for the UK to be strategic about growing its own workforce rather than recruiting doctors and nurses from around the world. This facility is here and ready to go and I'm very excited about Worcester playing a growing role in producing the country's medics."
"Bring forward additional medical school places"
The University's Vice Chancellor and Chief Executive, Professor David Green CBE DL, thanked Ms Baldwin for her continued support, and urged the Government to bring forward additional medical school places.
"We are grateful to Harriett Baldwin MP, along with Worcester City MP Robin Walker, along with our many partners, within the NHS and more broadly, for their continued support in the long campaign for funded places at the University," he said.
"We very much welcome this new NHS workforce plan which has been long needed – especially given the grievous 17% cut in nurse training places in 2011 from which we are all still suffering.
"We are pleased that the plan includes a commitment to double the number of funded medical school places. But why must we wait 2 years and 2 months until September 2025 for the first extra new students to start? The Country desperately needs more doctors now.
"At the University of Worcester we are ready and willing to begin educating medical students immediately from this September, through our Graduate Entry Medical programme, which will allow students to qualify in just 4 years. Graduate entry is the quickest fully approved route in the country.
"We are looking forward to welcoming our first cohort of medical students to the University in September, which will include 20 UK students who are being entirely funded through the generosity of a local charity and the NHS locally. They will be joined by a similar number of self-funded international students.
"We could take more, if only the government would give us funded places. We very much hope we will be made an allocation immediately. If that is not possible surely there can be an allocation for 2024 as there are plenty of placements and a desperate need for new doctors in our region.
"We have the talent, facilities, expertise and placements to start educating UK medical students straightway. Just give us the places and we will do the job."