UK (Queen's University Belfast) "I feel like I've got the whole world in my hands" – joyous day as Syrian refugee Shefaa graduates
Shefaa Al Deek, who is graduating today with a First Class Honours in Software Engineering, describes her journey as the "impossible dream".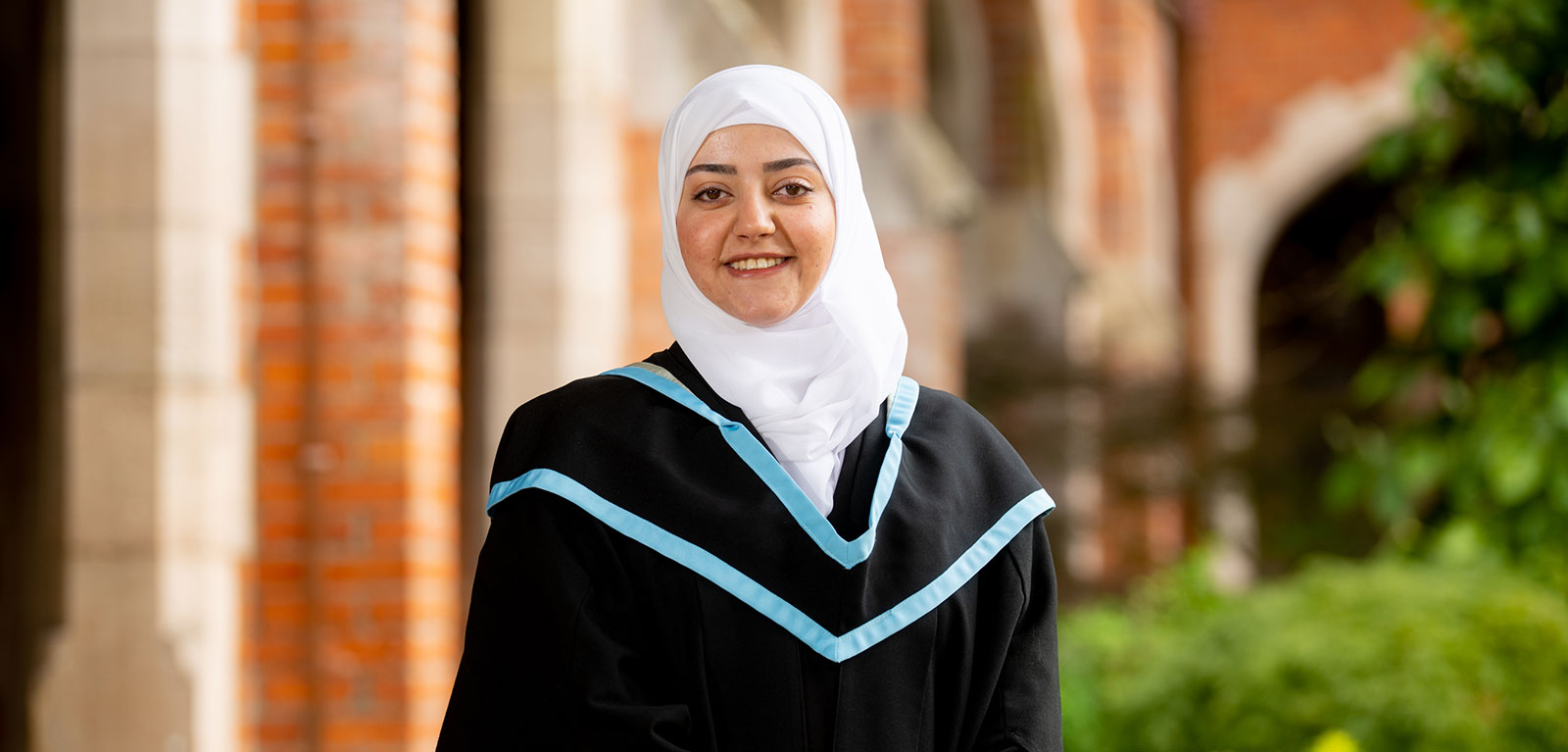 Shefaa, who is a Syrian refugee, arrived in the UK just seven years ago and was not able to speak one sentence in English. 
Despite this, her dream was to become a Software Engineer. Since 2016, Shefaa has taught herself English, completed Maths and English courses, an Access course and sat the IELTS (an English language test) test in order to try and achieve her goal. 
In September 2019, Shefaa was accepted to Queen's University and began studying Software Engineering. She worked very hard, completed one year of placement and is today graduating with a First Class Honours. She plans to continue her studies at Queen's and will soon begin a course in MSc Artificial Intelligence. 
Commenting on her journey, Shefaa says: "When I arrived in the UK in 2016, my English was very limited, and I couldn't speak or understand it. At that time, I thought I would never be able to pick up the language and my dream of getting into university and becoming a Software Engineer looked far beyond impossible.  
 "A quote which has always motivated me is: 'A dream doesn't become reality through magic; it takes sweat, determination and hard work'. After a lot of hard work and gaining many qualifications and an Access course, the great dream came true in September 2019 and I was finally a Queen's student. 
"The education system in the UK is very different to Syria as there are various ways to getting into university. The journey was very tough and at times I thought I wasn't able to do it anymore, but all my tutors were supportive and motivated me to keep going. Despite all the barriers and difficulties, I didn't give up on my dream of becoming a Software Engineer." 
Shefaa enjoyed many different aspects of university life. She explains: "Being from a different background, I love how diverse Queen's University is and as I got to know people from everywhere I always felt that I fitted in. I was taught by professional and friendly lecturers who made the modules interesting and provided support when I needed. The best of all is that by studying I was working towards my lifetime dream." 
She adds: "I would like to give special thanks to my family especially my mum who's always been my role model for a successful woman and an amazing mother, and my brother Alaa who believed in me and was always there for me. Ligia Parizzi from Belfast Met and Nasser Al-Taher from Extern who were by my side from the beginning and throughout the whole journey and still supporting me until today. Tricia O'Reilly from Queen's who supported me when I was going through tough time. Belfast Met, The Prince's Trust and Ruth Hayman Trust which provided financial and educational support. Of course, to Queen's University Belfast which gave me the opportunity to reach my full potential." 
Today is a very proud moment for Shefaa and her family as she graduates. She says: "Graduating from Queen's with a First Class Honours feels like I've got the whole world in my hands. No words in any language can express how thrilled I am. 
"My family and friends are happy and very proud of me. When my mum heard that I got a First, she said, 'If I had the moon in my hands, I would've presented it to you.'" 
She has some advice for anyone who is starting out on what seems like an impossible journey: "Dreams can become reality when you believe in yourself and work hard. Never let tough times hold you back from pursuing your dream and remember that tomorrow you will wish you had started today."