Stockton University (USA) Stockton Hosts Overnight Bash for New Students
Galloway, N.J. – This summer, Student Transition Programs is bringing the heat, firing on all cylinders to provide new students an orientation experience like none other. After the past year and a half of social distancing, masks and plexiglass, the entire Stockton community is celebrating the return to normal and welcoming new Ospreys with big smiles to the Galloway campus for overnight orientations, known as Nest Fest.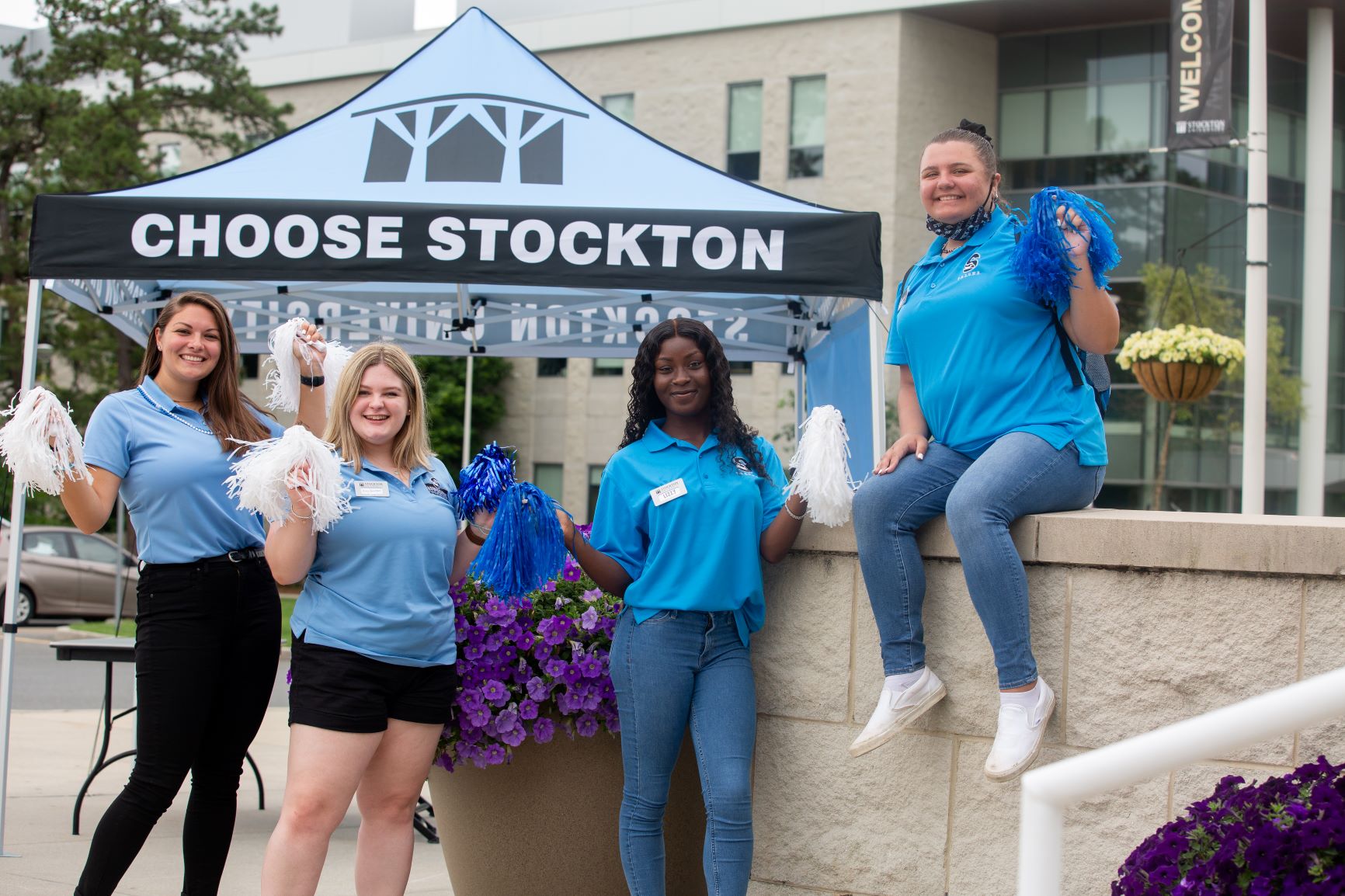 "We listened and responded to the needs of the incoming students who missed out on socializing with their peers due to the COVID-19 pandemic," explained Director of Student Transition Programs Ana Edmondson. Typically, orientation would be a one-day event to register new students for fall classes. But this year, in addition to one-day and virtual orientations, Edmondson and Candace Mitchell, coordinator of Student Transition Programs, introduced five overnight options to help students acclimate to campus, experience the dorms and make new friends before the start of the fall semester.
"I wanted the chance to experience dorm life," explained Marvin Mutts of Vineland. "I knew I wouldn't get that at regular orientation, so I signed up for the overnight one instead." Mutts plans on studying Computer Science at Stockton, following in the footsteps of his brothers, father and sister, all of whom are Stockton graduates.
Rylie Hart of Hammonton said: "I wanted to come overnight and experience campus so I wouldn't be shocked by everything when I move in this fall."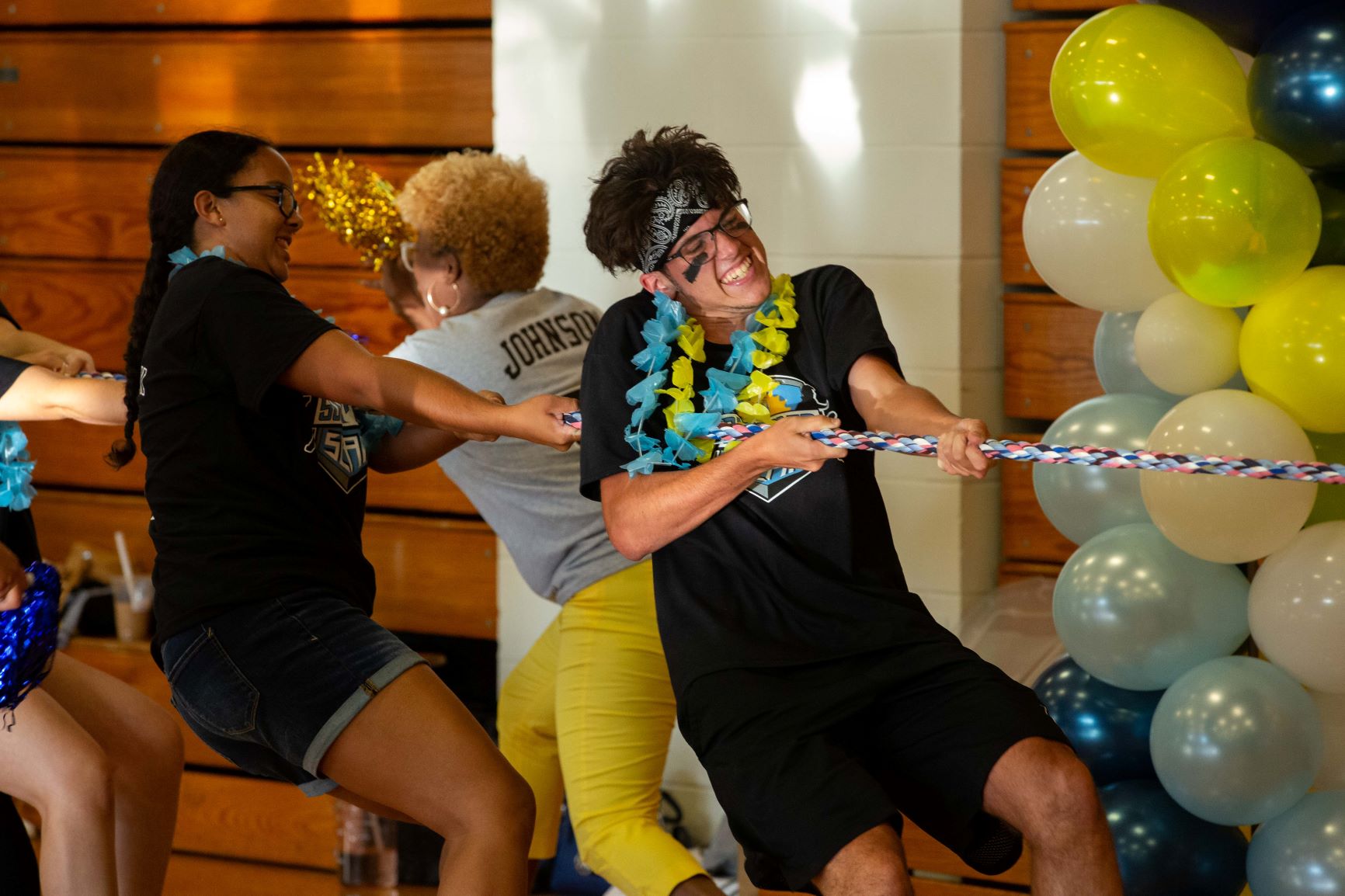 During the overnight bash, students explore Stockton, checking off items on a scavenger hunt list and snapping the perfect Instagram picture at photo stops around campus; attend informational sessions and icebreakers to become familiar with campus resources; get a taste of campus food as they enjoy meals in the Campus Center Food Court and N-Wing while jamming to live music and dancing; and the big draw, experience the first-year dorms and what to expect living on campus in the fall. However, the real fun begins at night once the families leave, with Residential Life amping up the energy at the Summer Slam program, which is designed to help even the shyest students warm up. Ospreys are divided randomly into four teams and compete against each other in a variety of games while listening to music and getting to know each other better.
"Some of the students are nervous, but you can watch them come out of their shells during the Summer Slam event. They're meeting new people and building connections," explained Mitchell.
"It was the best moment of my life," said Abriana Velez of Camden as she recounted Summer Slam. Alyssa Wharton of Wood-Ridge agreed it was fun, mentioning that karaoke in the game room after Summer Slam was the highlight of her experience. Both Shakila Riaz and Sabina Chowdhury of Atlantic City echoed this sentiment, adding the Summer Slam and karaoke events were a fun way to connect with others with similar interests.
"My son was very anxious for the past couple of days before we arrived," said Giancarlo Guido of his son, Manny. "He was very excited to come to Stockton, but as we got closer to coming for orientation, he was nervous. However, as soon as we got here, he began to relax. He seems more comfortable and excited walking around, meeting new people." Sandra Guido added, "I love the energy at Stockton. I love the environment, the atmosphere here. I love the diversity around campus."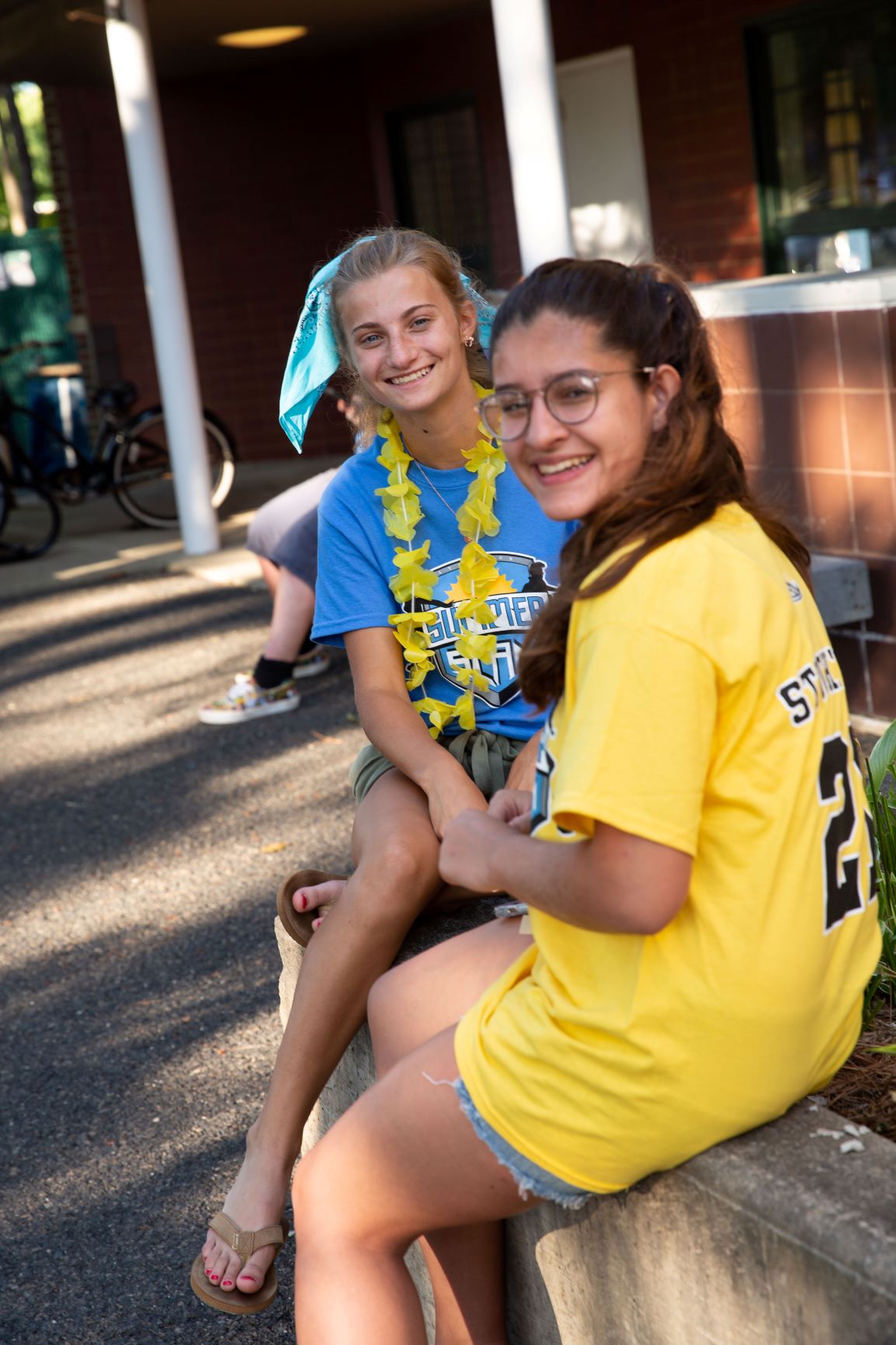 Liz Miller from Sewell was pleased with how helpful the entire orientation experience was for her as a parent, adding: "My daughter has already made lifelong friends here."
Nest Fest attracted students from around the country, traveling from states like Michigan, Virginia, New York, Maryland and Pennsylvania. Lydia Pool from Grand Rapids, Michigan drove 12 hours with her mother to attend Nest Fest and meet the women's rowing team. She will join the team in the fall as a coxswain. "It was a long drive, but I'm excited to be here and see everything. We met the rowing team yesterday in Atlantic City; everyone was so friendly and excited to meet me…it felt so good."
"I hope the overnight orientation helps my son break out of his shell," said Jenn Freund of Ashburn, Virginia, who drove four hours to attend Nest Fest with her son, Zachary.
"It was amazing," said Andy Mitchell from Swedesboro of his Nest Fest experience. Ashton Ruggio, also of Swedesboro, said his favorite part of Nest Fest was "meeting new people. A bunch of us guys hung out in the dorms and watched the Hawks game. It was fun to just hang with everyone." Ruggio added he is excited for the full college experience come fall.
After recounting a happy memory about the only time she visited Atlantic City on a high school trip, Emily Sanchez of Jackson said: "I can't wait to make memories like that this year." She decided to attend Nest Fest to meet more people and make connections. "Even though I'll be living in Atlantic City this fall and won't be on this campus much, it still feels like home here."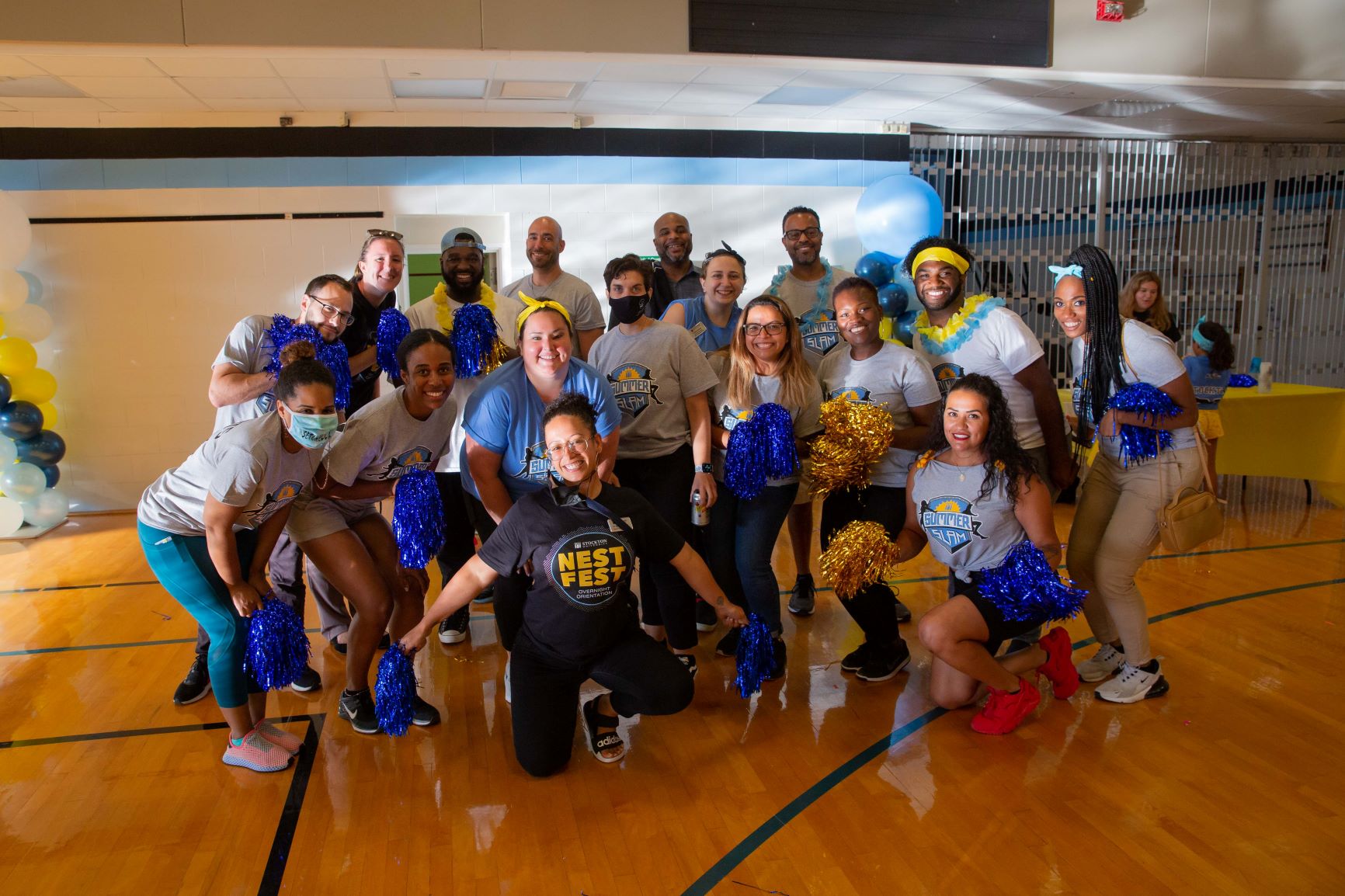 "Student Transition Programs organized a village of staff and student leaders to welcome, nourish, educate and engage students and families before they registered for classes," Edmondson said, explaining how Nest Fest is truly a university-wide effort to make sure new students and their families feel at home at Stockton, while showing what campus life will be like in the fall with the loosening pandemic restrictions.
Marques Johnson, director of Residential Education and Student Services, reminded the crowd of new students at Summer Slam: "We are in this together. We may be wearing different colors tonight, but we are one Stockton."
More overnight orientations are scheduled throughout July. To learn more about new student orientation, Nest Fest and to register, visit https://stockton.edu/student-transition/orientation.html. To learn more about Stockton University and apply for the fall 2021 semester, visit admissions.stockton.edu.