Slovak University of Technology (Slovakia) Carlis: spring school for phd students
Carlis: SPRING SCHOOL FOR Ph.D. STUDENTS
When: March 27-31, 2022
Where: Piešťany, Slovakia (Hotel Magnólia 4*, www.hotelmagnolia.sk)
Dear Ph.D. students,
What do you think about the next steps in your career?
Would you like to learn more about career opportunities in the private sector?
Do you wish to develop skills that will help you enter the labor market successfully?
Would you like to learn more about what are the expectations of employers?
Or what would it take to set up your own business?
Would you appreciate an opportunity to discuss these questions with experts and researchers having successful careers beyond academia?
The Carlis Spring School is the right place to search for the answers to your questions.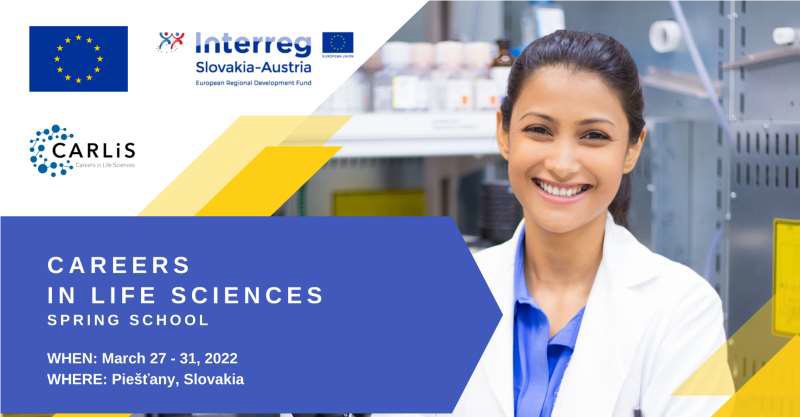 The Spring School aims to provide Ph.D. students with an opportunity to explore different career paths in the life sciences, emphasizing careers in the private sector, and develop the skills needed to follow those paths.
The agenda of the Spring School will offer a mix of lectures, talks, and practical exercises focusing on four areas: (1) career strategies, (2) knowledge transfer, (3) entrepreneurship, and (4) soft skills. It will also provide an attractive social program and opportunities for networking. The whole event will be held in English.
Agenda:
Sunday, March 27th, 2022
We will start with the joint dinner at 18.00 and some activities to get to know each other.
Monday, March 28th, 2022
Basic training on communicating your ideas in different contexts (presenting yourself in job interviews, pitching your research); you will also gain insights into the life science sector in Bratislava and Vienna and learn the fundamental skills employers seek.

(The evening will be dedicated to career talks with researchers working in private companies.)

Tuesday, March 29th, 2022
We will start with the basics of knowledge transfer and intellectual property rights. The afternoon slot will allow you to train your job search skills through mock interviews with HR specialists and get feedback on your professional CV.

(We have an exciting story ready for the evening.)

Wednesday, March 30th, 2022
Further information about knowledge transfer and intellectual property rights:

Want the opportunities to explore your entrepreneurial spirit and learn what it takes to transform ideas to impact?

(Free evening program).

Thursday, March 31st, 2022
Intro into scientific entrepreneurship as a possible career path.

(After the typical lunch at 1.00 p.m., the departure of participants will follow.)
ELIGIBILITY CRITERIA FOR PARTICIPANTS
to be a Ph.D. student at the Slovak University of Technology in Bratislava (STU)
carrying out respective studies in life sciences or related study programs and study programs with potential application/outreach in the life sciences sector;
interested in exploring career paths beyond the academic sector;
enrolled in any year of your studies, but preferably in the 2nd year and higher;
having a good command of English (B2+ according to CEFR).
APPLICATION PROCESS
The deadline for submitting applications to the STU Rectorate in Bratislava is March 3rd, 2022. For more details, don't hesitate to get in touch with project managers at the Department of Research and International Scientific Cooperation:
The STU is entitled to nominate up to 6 participants for the Spring School. The selected candidates will be contacted with further details.
PRACTICAL INFORMATION
Participation in Spring School is free of charge. Accommodation for four nights in the Hotel Magnolia 4* in Piestany (single room per participant – www.hotelmagnolia.sk), catering (entire board), and joint bus travel costs – before/after the event from Bratislava to the venue and back will be covered by the project.
Participants are expected to stay for the whole duration of the Spring School and take advantage of the full agenda.
Participants will receive a certificate of participation/accomplishment.
SAFETY
Carlis Spring School will take place on-site and requires the physical attendance of participants. To comply with the pandemic preventive measures and the currently valid regulations for organizing collective events in Slovakia, the participants must meet the preventive requirements described in our leaflet.
GENERAL INFORMATION ABOUT Carlis
The Spring School is one of the activities of a bilateral Slovak-Austrian project entitled Careers in Life Sciences (Carlis) within the program of cooperation Interreg V-A Slovak Republic-Austria 2014-2020 (www.sk-at.eu).
The project aims to contribute to the improvement of doctoral (PhD.) education and better collaboration between the academic and business sectors in the region of Vienna-Bratislava. This should be achieved through developing inter-sectoral career training and preparing Ph.D. students for career paths beyond academia with a specific focus on life sciences. More information is available at https://carlis.saia.sk/en.