Ocean University (China) Sars-Fang Centre Built the World's First Multi-omics Database for Animal EvoDevo
On November 11, Prof. Dong Bo's team and Prof. Wang Shi's team from the Sars-Fang Centre for Marine Molecular Biology (Ocean University of China) jointly published "EDomics: a comprehensive and comparative multi-omics database for animal evo-devo" in Nuclear Acids Research, a top international journal in molecular biology, marking the successful establishment and official launch of the world's first multi-omics database for animal evo-devo.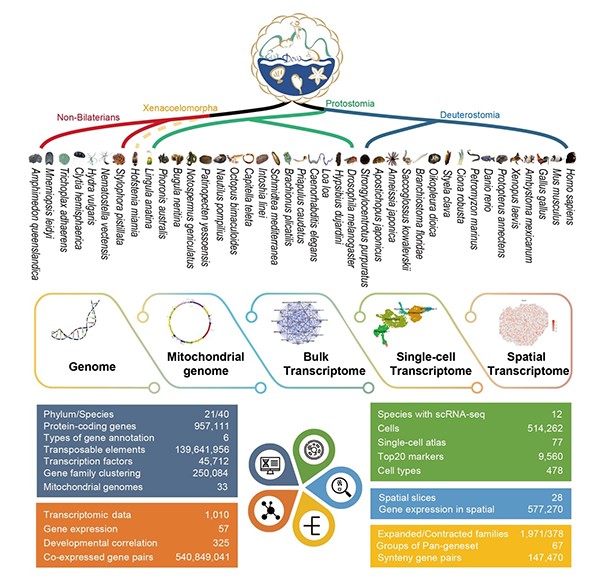 Evolutionary Developmental Biology (EvoDevo) is a new interdisciplinary subject that has been rising rapidly worldwide in recent years. It aims to summarize and explain the underlying evolutionary mechanism and laws by studying the highly diversified development processes of the biological world. In the past decades, extensive research on classical model organisms has laid a solid foundation for the current framework of basic knowledge in genetics, development and evolution. Few model animals are not able to provide a panoramic interpretation of the EvoDevo process of the entire animal kingdom. Although a large number of multi-omics resources have been accumulated in non-classical model animal groups in recent years, their integration and analysis still constitute a major challenge.
The research team established EDomics, the first comprehensive database for animal EvoDevo in the world. It integrates large amounts of genomic resources (from both traditional and new model organisms) and classifies the massive data of multi-species, and solves the technical problem of cross-species and multi-omics data comparison and analysis. EDomics enables a systematic Evo-Devo view of genomics and transcriptomics information across the animal kingdom.
The establishment of EDomics will provide open access with the widest species coverage, the richest omics resources and the most comprehensive analysis functions for the international academic community. It will enable the systematic integration and in-depth analysis of omics resources, so as to promote innovation, discovery and major breakthroughs in the field of life sciences.