Ocean University (China) OUC Students Reaped Laurels in iDEC 2022
Recently, the International Directed Evolution Competition (iDEC) 2022 was concluded. The team from Ocean University of China (OUC), composed of 7 postgraduates and 1 undergraduate from the School of Medicine and Pharmacy, stood out from global competitors and won the silver medal, with nominations for Best Target Molecule, Best Community Building, and Best Wiki.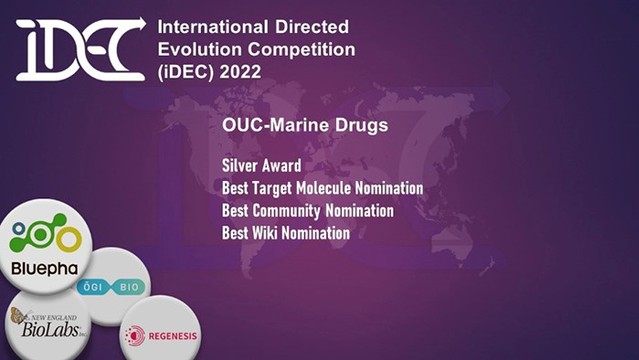 The iDEC is an international interdisciplinary competition that focuses on directed evolution. This year's judging panel included top experts and scholars in the field such as Prof. Ahmed Badran from Scripps Research, Prof. Chang Liu from the University of California, and Prof. David Horning from Salk Institute for Biological Studies. The OUC team submitted a project entitled "Applying semi-rational directed evolution toward an acyltransferase for enhanced acylation activity" and presented its research results in various formats. It engaged in in-depth exchanges with peers from a host of well-known universities all over the world.