Yonsei University (Republic of Korea) – Global MOOC's First Korean Lecture, "First Step Korean," Ranked in Top 5 Courses on Coursera
On Coursera, the world's largest massive open online course (MOOC) provider, Professor Seung Hae Kang's "First Step Korean" was selected as one of the top 5 lectures by female instructors with the largest number of students from July 1, 2020 to June 30, 2021.
The listed top five include "The Science of Well-Being" by Professor Laurie Santos of Yale University, "COVID-19 Contact Tracking" by Professor Emily Gurley of Johns Hopkins Bloomberg School of Public Health, "Learning How to Learn" by Professor Barbara Oakley of Oakland University, and "English for Career Development" by Professor Robyn Turner of University of Pennsylvania. With "First Step Korean" by Professor Kang being the only language course provided by an Asian university, the latest achievement holds significant meaning. 490,000 is the number of registered students, excluding visitors, across the globe who enrolled themselves in the course with a strong passion to learn the Korean language from Professor Kang over the past year.
Professor Seung Hae Kang, Dean of the Graduate School of Education at Yonsei University, began teaching the Korean language in January 1986 at Yonsei University's Korean Language Institute (YSKLI). When Yonsei became the first Korean university to pioneer the global MOOC, she opened the course "First Step Korean" for students and enthusiasts across the globe. Professor Kang was born in Korea and grew up among Koreans, so though she naturally accepted the Korean behavior and culture, she had no chance to look into them objectively. However, from the moment she started her career at the YSKLI as an educator, she noticed that all of her actions and words have become a source of curiosity among foreign students, with which she realized her new mission as a Korean language ambassador and a diplomat for these students, conscientiously serving these roles with a sense of duty since then.
In order to produce lectures that are of sufficient help in learning Korean as a foreign language, as well as efficient lectures that can enhance learning effectiveness without students losing interest, Professor Kang took charge of everything in front of and behind the camera out of a sheer passion for the Korean language, from class arrangement to learning materials and content organization. With Professor Kang considering herself as introverted, it took a lot of courage to pioneer and represent the country by producing video lectures on Korean language education for students around the world. For her, the following words of God, "I can do all this through him who gives me strength" (Philippians 4:13), was the driving force behind the successful completion of the lecture, as well as her sense of mission as a professor at Yonsei University.
In particular, the part she devoted the most to producing the "First Step Korean" course at Coursera was the lecture on Hangeul, the Korean alphabet, which was based on the principles of creating Hunminjeongeum by King Sejong the Great. This is because in learning a foreign language, it is more important than anything else to accurately establish and understand the basics and framework of the new language and overcome the oral structure that has already been hardened by your mother tongue. Professor Kang emphasizes in the lecture that the reason behind the feasibility of learning the Korean language through learning the letters first lies in the systematic and scientific excellence of Hangeul, which is also a reflection of the love King Sejong the Great held for the people as he established the Hunminjeongeum.
For foreigners, Korean is a language that they want to learn as it stands as the centerpiece of the Korean Wave. The heartfelt thanks and gifts from all over the world to Professor Kang once again affirm her popularity. The most memorable student from Professor Kang's lecture at Coursera is a severely disabled student who sent a warm thank-you letter titled "Thank you from America:)" after taking the course. As Professor Kang presented the letter, which she had kept dearly, she was overcome with emotion.
The following is part of the letter's contents.
[ Dear Ms. Kang, ..-.. I cannot go to university because I am sick. But I still work and I am still happy, so please do not feel sad! Please feel happy because you are helping me learn and be stronger! ..-.. Ms. Kang, you never know when you will do a kind thing that will go farther than you ever imagined. People (Korean ladies) help me in my home 3 days a week. They help me get groceries, cook, clean, care for myself, and go outside safely. ..-.. These Korean ladies are very good to me, and I would like to learn about their culture by learning their language, so that I can properly respect and thank them. Truly, they treat me like I am their own daughter or sister. I love them and they help me be much better. ..-.. Ms. Kang, I am telling you this because I respect you and thank you for your gift of Coursera course materials. You are helping me learn by myself, and I don't have to struggle. I study hard every day and promise to do my honest best. You are going to help me be kind to these ladies who are quickly becoming family to me. You will help me bring them comfort and laughter as they hear me learn and play with language. My pronunciation is very good, they say, so I will keep working. Thank you for your part in helping me give back to them. ]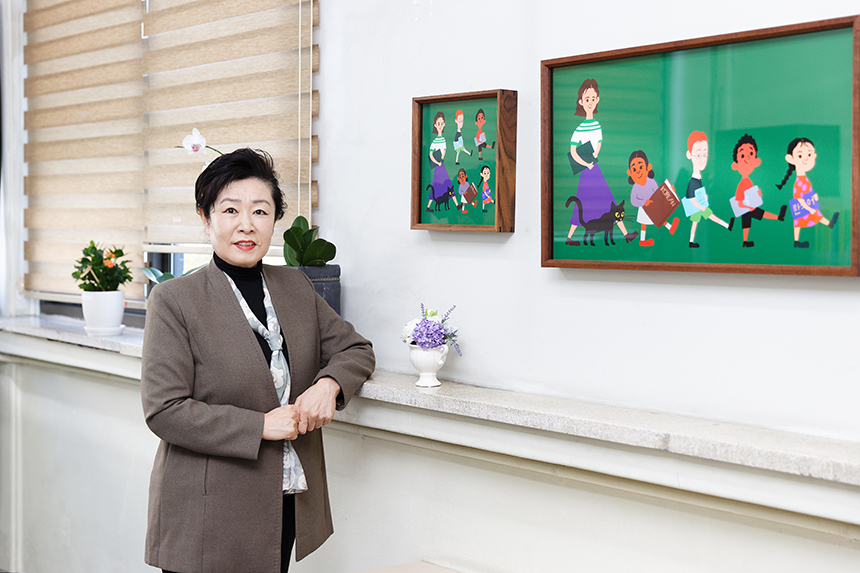 Professor Seung Hae Kang, who is spreading positive influence through Coursera amidst the COVID-19 pandemic, is a professor at the Yonsei Graduate School of Education who trains leaders who will contribute to society according to the spirit of truth and freedom based on Christian teachings, and a true educator who unconditionally gives the gifts of learning to anyone who loves Hangeul.