USA (Brown University) Student-curated MFA Boston exhibition spotlights long-forgotten female Flemish painter
As part of a hands-on graduate practicum course, six Ph.D. students played a major role in curating an exhibition of 17th-century paintings by the female Flemish master Michaelina Wautier.
PROVIDENCE, R.I. [Brown University] — At the Museum of Fine Arts Boston, a talented 17th century female painter is finally getting the recognition she deserves — thanks in large part to a cohort of graduate students at Brown University.
Six doctoral students from Brown played a major role in curating "Michaelina Wautier and 'The Five Senses': Innovation in 17th-Century Flemish Painting," an exhibition on view at MFA Boston now through Fall 2023. As part of a graduate practicum course in art history, the students worked alongside curators and experts at the MFA's Center for Netherlandish Art to understand and contextualize Wautier's role at the forefront of artistic innovation in Flanders and beyond.
Wautier lived and painted in Brussels in the mid-1600s — but despite her clear and exceptional talent, she fell into obscurity for centuries, overshadowed by male contemporaries such as Peter Paul Rubens and Anthony van Dyck. Art historians have only recently discovered Wautier and drawn attention to her significance in their scholarly writing, leading to soaring prices on her work at auctions and increased interest from museum curators across the globe. MFA Boston is the first museum in North America to dedicate a gallery to her work.
"We wanted to give Michaelina Wautier the spotlight she deserves, which was taken away from her for so long," said Regina Noto, a fourth-year Ph.D. student in history of art and architecture at Brown and one of the MFA exhibition's curators. "It was exciting to tell a clear, feminist story about women and their value in art — not just as muses or models, but as leading creators themselves."
As students in the practicum course taught by Professor of History of Art and Architecture Jeffrey Muller, Noto and her classmates spent much of the Spring 2022 semester in Boston with curators, conservators and researchers at the Center for Netherlandish Art. Through conversations and hands-on activities, they learned about how conservators repair centuries-old art and use infrared technology to peer beneath painted surfaces; how curators research the provenance and cultural context of artworks; and how museum employees work together to create thoughtful, educational and original exhibitions.
The students applied what they'd learned almost immediately. In individual research projects, they delved into Wautier's painting and drawing technique, her probable artistic influences, and how 17th-century Flemish culture and customs shaped her career and legacy, among other topics. The students' rigorous research not only provided important context for the exhibition's catalog and wall texts but also informed their opinions about what direction the exhibition should take.
"From the beginning, we were the curators of the show," Noto said. "We spent time asking, 'What is the message we want to send? What is the story we want to tell? What is special about this particular artist and her work?' To be given so much control over the message of the show was fantastic, unique and rare."
The students chose to focus on Wautier's extraordinary biography and "The Five Senses," her masterly 1650 series that depicts everyday Flemish life with humor and flair. Each of the paintings shows a young boy demonstrating one of the five senses: One boy plays a recorder, for example, and another grimaces as he sniffs a rotten egg. To enhance visitors' experiences, students incorporated Wautier's self-portrait, painted sometime in the 1640s, into the exhibition.
"The students wanted to underscore the importance and integrity of Wautier's paintings — their value as works of art in their own right painted by a woman who had previously been ignored," Muller said. "They were given a very strong voice in the development of the exhibition."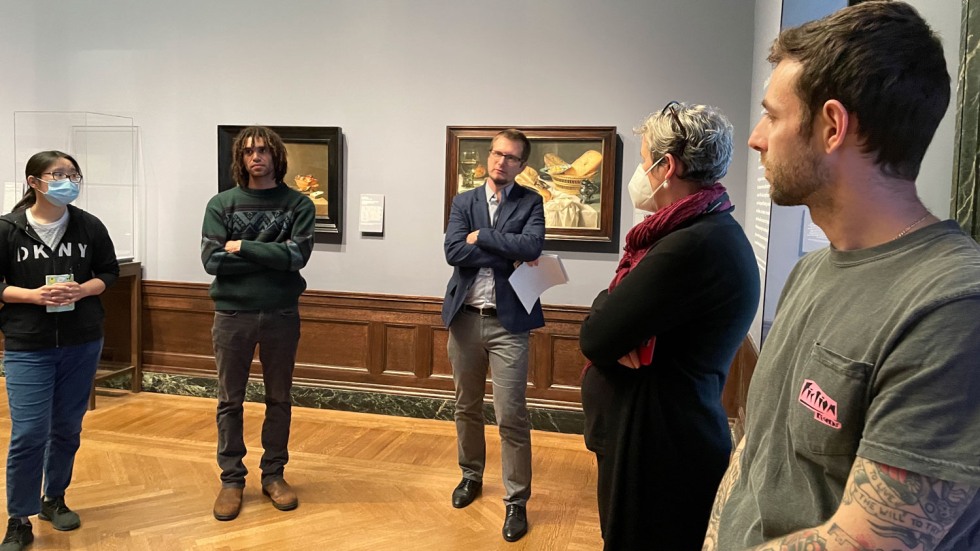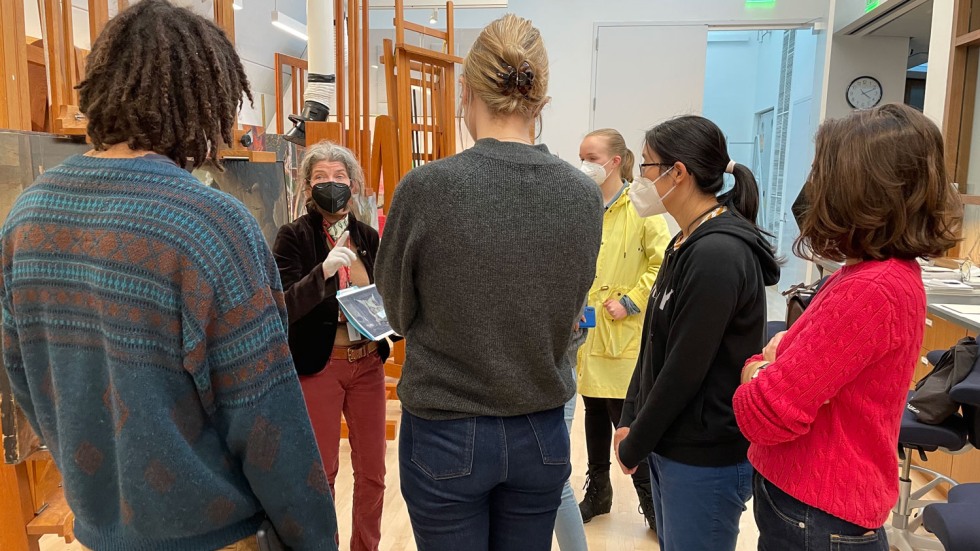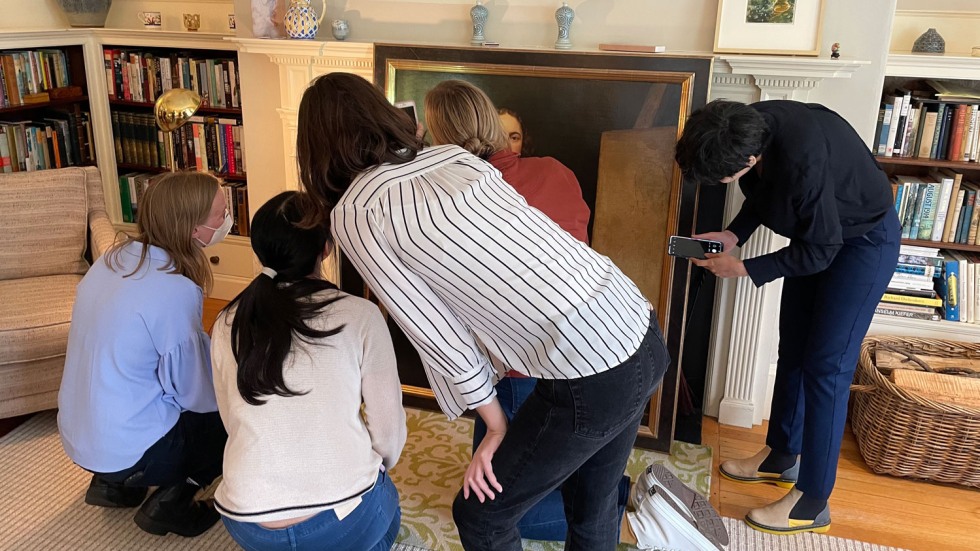 Muller said the practicum course always involves hands-on work of some kind — in the past, students have interacted with and generated original research on items in the RISD Museum's permanent collection and objects at Brown's John Hay Library — but rarely do students get the chance to shape public perception so directly.
For Noto, who hopes to pursue a career in museum curation, the experience was invaluable; it's virtually unheard of, she said, for students to have a hand in curating any public exhibition, let alone an exhibition at one of the country's largest and most respected art museums. After the spring semester, Noto stayed on at the museum as a paid assistant, preparing photographs and texts for the exhibition and even helping with the installation in November.
"I had worked at three museums before this," Noto said, "but this was a really eye-opening and valuable experience. The MFA gave us a very open and generous look at how museums function, letting us into the conservation lab and connecting us with people who have had, frankly, astonishing careers in curation. I don't know any other Ph.D. students who have had an opportunity like this."
It may not be the last time Brown students contribute to an MFA exhibition, said Chris Atkins, director of the museum's Center for Netherlandish Art. The center hopes to expand its engagement with colleges and universities across New England in the coming years, with the goal of generating new discoveries about centuries-old works of art via research and study.
"It was interesting to see how the students brought their own perspectives to the material and brought fresh insights," Atkins said. "I could not be more pleased by the output. We want to get people to learn, to get excited, to come see art, to have conversations about it. These students have certainly started a conversation."
The exhibition, "Michaelina Wautier and 'The Five Senses': Innovation in 17th-Century Flemish Painting," is on view through Fall 2023. Tickets and information are available on the MFA's website.