Botswana (University of Botswana) UB & AAP Consortium Launch P1 Million Project on Students with Intellectual & Developmental Disabilities
The University of Botswana and Alliance for African Partnership (AAP) consortium have a launched a project titled: The Evaluation of Inclusive Education Programs for Transition-Age Students with Intellectual and Developmental Disabilities in Botswana and Ghana.
The project is a partnership of four institutions namely University of Botswana, Michigan State University (MSU), University of Royal Melbourne Institute of Technology in Australia, and University of Education, Ghana. The launch was a sequel to a planning grant of approximately P1.1 million (US$100 00) that Dr Boitumelo Mangope received under the Alliance for African Partnership (AAP) grant programme, Partnerships for Innovative Research in Africa (PIRA).
As such, the main objective of the launch was to introduce and promote the envisioned transition framework by the University of Botswana, key stakeholders and partners from Michigan State University. The researchers also used the opportunity to share preliminary findings of the project.
As a community-based participatory research project on the transition of students with intellectual and developmental disabilities (IDD), the aim was to develop an evidenced based and contextually relevant transition framework to guide stakeholders in implementing transition programmes from school to work for such learners. The developed tool was envisioned to assist in accelerating and broadening the transition opportunities for this group of students.
Giving a keynote address, Centre for Continuing Education Director, Professor Richard Tabulawa, was upbeat that the project provided an innovative and transformative approach in the development of a culturally responsive transition programme aimed at enhancing the social inclusion of people living with disabilities (PWDs) into the world of work.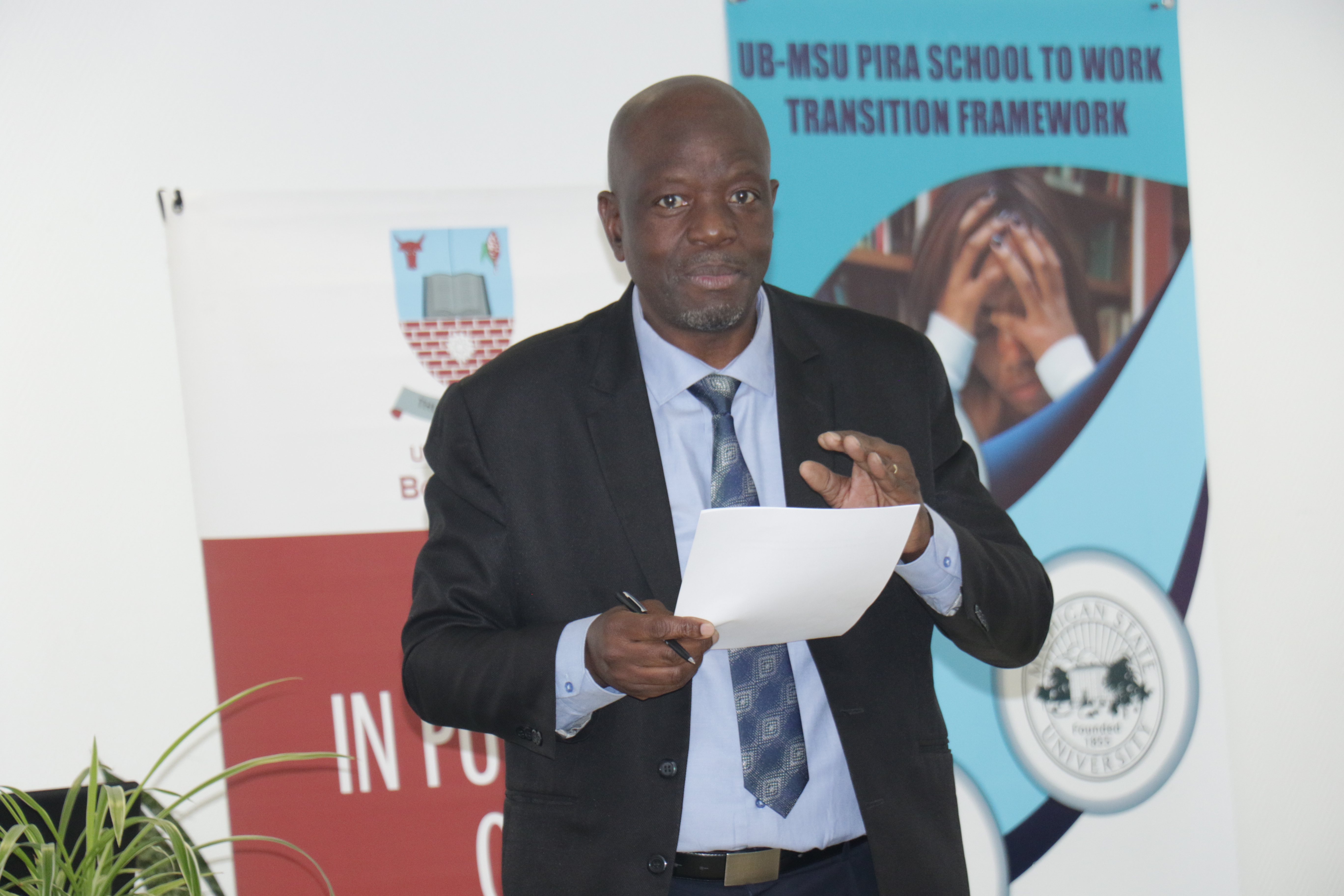 Professor Tabulawa underscored the need for PWDS to play a central role in informing and influencing decisions related to their inclusion. He said particular attention should focused on what happened when young people with disabilities left school, the barriers or challenges they had to navigate and how they overcame them.
Professor Tabulawa decried that young people with disabilities were some of the most disadvantaged groups of youths transitioning from education to employment and yet they were not a target group of transition to work initiatives in countries such as Botswana and Ghana.
He lamented that transition to employment support systems was still failing young people with disabilities, resulting in reduced opportunities.
"International and local statistics suggest overall general limited employment opportunities for people with disabilities," he reckoned, noting that in Botswana, the low employment participation of young people with disabilities was an indicator of long-term and often lifelong disadvantage.
Consequently, Professor Tabulawa called for concerted efforts to break the link between disability and poverty such that there should be deliberate initiatives to create supportive employment pathways through projects such as the one UB and its partners was launching.
He noted that disability issues cut across all circles of life but to avoid fragmentation and duplication of efforts, it therefore called for collaboration of all stakeholders in order to open up access to participation in the community.
"I am happy to observe and applaud the fact that this project not only brought together scholars from across the globe (US, Australia and Ghana) but also government sectors, non-governmental organisations, community, disability organisations, families of PWDs and people with disabilities themselves," said Professor Tabulawa.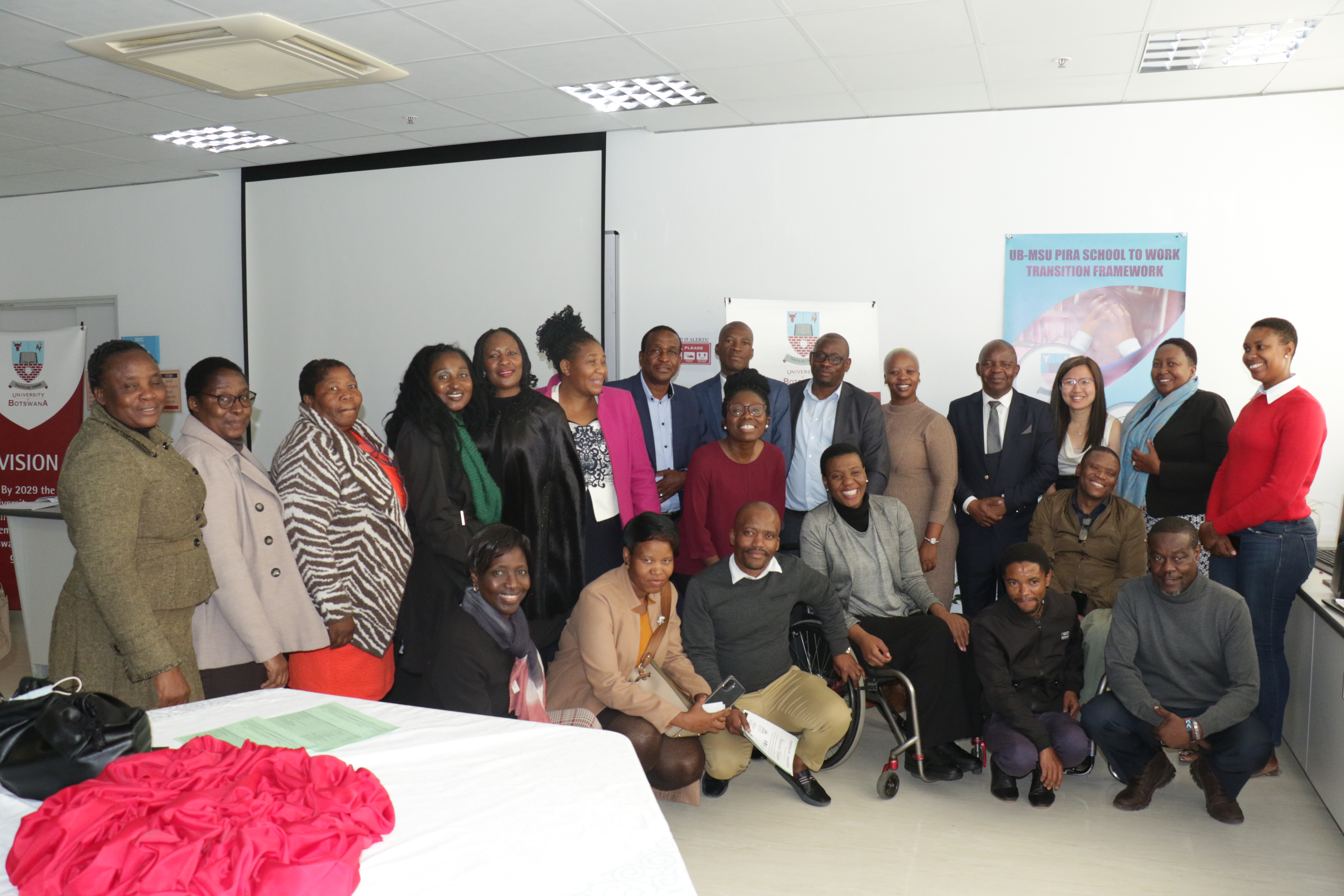 He reckoned that it was through such projects that the University of Botswana sought to support and generate enduring partnerships, both nationally and transnationally, with the intention to enhance full participation of this vulnerable population.
Meanwhile, AAP is a consortium of ten leading African universities (including the University of Botswana) and Michigan State University founded in 2016. AAP s a collaborative and cross-disciplinary platform to address today's global challenges in a way that is sustainable, effective, and equitable. As such, the AAP has identified mutually defined challenges that fall into six highly interrelated themes: Agri-food systems; Water, energy, and the environment; Culture; Youth empowerment; Education; Health and nutrition.